Next: Shifts of the Spectra Up: Data Reduction Previous: Removal of the Photocathode



  One drawback of magnetically focused image sensors is that they can have geometric distortions if the electric and magnetic fields are not absolutely uniform. This is evident in Fig. 8, where one can see that the echelle orders are not perfectly straight. These distortions must be calibrated and then eliminated if accurate wavelengths are to be obtained. When confronting this problem, we discovered a beneficial aspect of the disfigurement of the photocathode. The apparent locations of the spots in our distorted electronic image are very well defined by the sensitivity template; the spots have sharp edges, and many of them have point-like centers that are even darker than general (see Fig. 7). To find their true geometric locations, we took a picture of the photocathode using a camera with a long focus lens and densitometered the photograph. We then made point by point comparisons of true and apparent locations over the whole field covered by the CCD. Fig. 9 shows the general character and magnitude of the distortion (note the factor of 3 exaggeration of the offsets).

To remap an IMAPS exposure to a true coordinate system, we used the information from the measured offsets shown in the figure. However, we did not apply them directly
, for to have done so would have resulted in a crinkly mapping function that responded to random measurement errors and the irregular sampling of points. Instead, we evaluated
a best-fit 4th order polynomial that described the corrections in x and y. Residuals between this fit and the measurements appeared to be random, i.e., the polynomial appeared to respond to all of the salient features of the distortion pattern, leaving only measurement errors in the residuals.

Figure 9: A map of the image distortions over the detector's format. Flags show the differences between apparent positions in the electronic image of the photocathode spots and their true locations, magnified by a factor of 3 for clarity.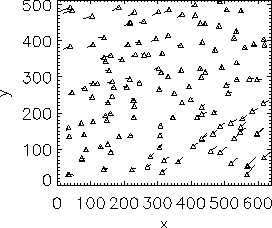 Figure 10: Numbers of various combinations of shifts in x and y seen between successive exposures at a fixed echelle setting. Each unit of the scale shown is in terms of the pixels in the image display used in data reduction (equal to half of a CCD pixel). A large fraction of the exposures showed little or no shift, as shown the tallest bars near the origin.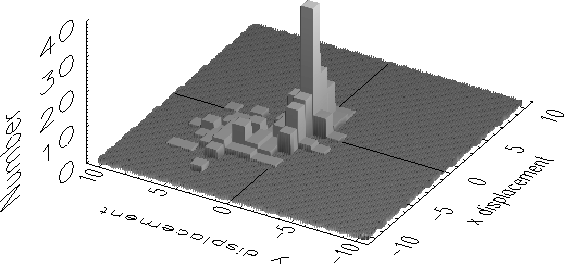 ---
Next:
Shifts of the Spectra
Up:
Data Reduction
Previous:
Removal of the Photocathode
12/15/1998